Events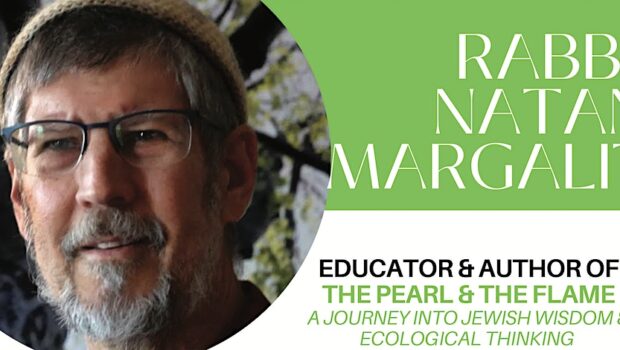 Published on May 9th, 2023 | by Natan Diacon-Furtado
0
The Sacred Patterns Which Connect: A New Integration of Judaism and Ecological Thinking
Dates: 5 Thursdays, 10/12, 10/19, 10/26, 11/2 & 11/9
Time: 7-9 p.m.
Cost: $225, financial aid is available
Location: Zoom
Rabbi Natan Margalit will offer a five part series this fall through Hebrew College's Me'ah Select:
The multiple global crises we face, from climate change to a culture of addiction to threats to democracy will not be solved by technical fixes alone but will take a deep shift in our worldview. Jewish tradition, which prioritizes relationships and connection in our sacred stories and communities, can promote a paradigm shift from either/or thinking to pattern thinking which connect us all, even while we maintain our unique identities. In this course, we will draw from the deep well of Jewish wisdom to demonstrate the ecological nature of ancient Jewish thinking and how it can be integrated with cutting-edge ecological thinking, creating a powerful new synthesis.
We will read sections of Rabbi Margalit's new book, The Pearl and the Flame: A Journey into Jewish Wisdom and Ecological Thinking as well as background readings from Jewish sources and contemporary writers such as Wendell Berry, Robin Wall Kimmerer, Michael Pollan, Mary Douglas and more. Some of the readings may be changed and others added depending on the interests of the class.
Rabbi Natan Margalit is a rabbi and scholar with 30 years of experience in teaching, writing, organizing, and congregational leadership. Raised in Honolulu, as a young adult he spent 12 years in Israel where he received rabbinic ordination. He returned to the U.S. and earned his Ph.D. in Near Eastern Studies at U.C. Berkeley with focus areas in Talmud, Literary Theory, and Anthropology. He has taught at Bard College, the Reconstructionist Rabbinical College, Hebrew College Rabbinical School, and now is chair of the Rabbinic Texts Department at the Aleph Ordination Program. He is also Director of the Earth-Based Judaism track of the A.O.P., and is founder of the non-profit Organic Torah. He lives in Newton, Massachusetts with his wife and two sons.
For more information, contact meah@hebrewcollege.edu