Events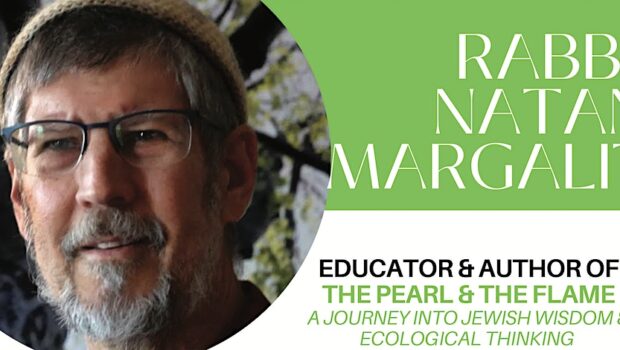 Published on May 9th, 2023 | by Natan Diacon-Furtado
0
Integrating Jewish Wisdom and Ecological Thinking to Heal a Fractured World
May 24, 7:00 pm pst
A presentation and discussion by Rabbi Natan Margalit that will offer pathways toward healing our most critical issues of climate change, addiction and social and political fragmentation.
When Jewish wisdom and ecological or systems thinking come together we integrate the best of modern thought with ancient Jewish wisdom. Rabbi Margalit will explore how in Jewish wisdom, relationships are primary and the whole is greater than the sum of the parts—the same qualities that we find in an eco-system. Based on Rabbi Margalit's new book The Pearl and the Flame: A Journey into Jewish Wisdom and Ecological Thinking.
Doors 6:30 PM, Presentation at 7:00 PM
Suggested Donation $3-$18, Registration Required
Rabbi Natan Margalit is a rabbi and scholar with 30 years of experience in teaching, writing, organizing, and congregational leadership. Raised in Honolulu, as a young adult he spent 12 years in Israel where he received rabbinic ordination. He returned to the U.S. and earned his Ph.D. in Near Eastern Studies at U.C. Berkeley with focus areas in Talmud, Literary Theory, and Anthropology. He has taught at Bard College, the Reconstructionist Rabbinical College, Hebrew College Rabbinical School, and now is chair of the Rabbinic Texts Department at the Aleph Ordination Program. He is also Director of the Earth-Based Judaism track of the A.O.P., and is founder of the non-profit Organic Torah. He lives in Newton, Massachusetts with his wife and two sons.
More information can be found here.
In-Person
Eastside Jewish Commons
Portland, Or