Offerings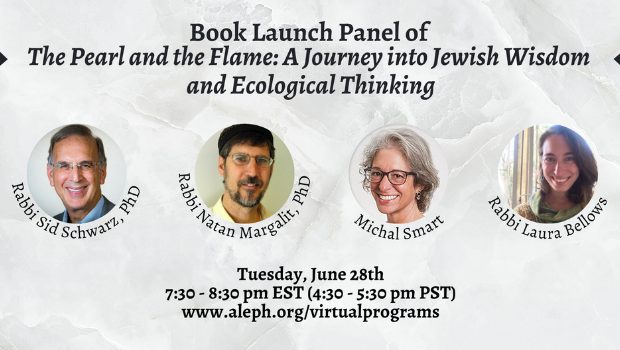 Published on June 8th, 2022 | by Jacob Sapon
1
'The Pearl and the Flame' Online Book Talk and Panel Discussion
Date: Tuesday, June 28
Time: 7:30 – 8:30 PM ET (4:30 – 5:30 PM PT)
Cost: FREE
Led by: Rabbi Natan Margalit, PhD
Description:
This panel of leaders in the fields of Jewish social justice, spirituality, and environmental education and activism will discuss insights and implications of Margalit's new book, The Pearl and the Flame.
The Panel:
Rabbi Sid Schwarz, PhD, moderator — Senior Fellow at Hazon, director of Clergy Leadership Incubator (CLI) and Kenissa: Communities of Meaning Network
Rabbi Natan Margalit, PhD — Chair of Rabbinic Texts Department, ALEPH Ordination Program; Director of Earth-Based Judaism Program and Organic Torah
Michal Smart — Chief Program Officer, Institute of Jewish Spirituality
Rabbi Laura Bellows — Director of Spiritual Activism and Education, Dayenu: A Jewish Call for Climate Action
In the words of Rabbi Ellen Bernstein, one of the pioneers of Jewish environmentalism, this book "illuminates the radical ecological nature of ancient Jewish thinking. Through personal stories and exploration of the most cutting-edge ecological thinking, Rabbi Margalit brings to life the wisdom of the rabbis, who understood that the meaning of life is forged by creating connections. At this time of such brokenness, The Pearl and The Flame inspires us to find creative new ways to make the world whole again."
If you wish to purchase a copy of Rabbi Margalit's book, The Pearl and the Flame, you may do so here.